String Gauge & Tension
Posted:
Mon Jul 09, 2007 1:50 pm
A sad story from Rusty:-
Dear Mr Dr Dewpont,

Three weeks ago I bought an authentic Selmer from a charming passing nomad which, he assured me, had been owned briefly in 1954 by Django Reinhardt. It was a magnificent specimen rather like yourself. Rhimlerblatt Rostocheline, the chap who sold it to me said for real authenticity I should put some heavy duty strings on called "Brazilians" like Django used.

I was unable to find that particular brand and during the search experienced a rather unpleasant incident that has since prevented me from being able to sit down properly. In the end, the best I could was a set of strings for an acoustic bass guitar which seemed to fit Rhimlerblatt's recommendation perfectly. But you can see from the enclosed pictute what happened when I tried to fit these strings! An absolute disaster!

What do you think I did wrong? I followed the experts advice to the letter. And do you have any idea where I can get the Brazilians he mentioned?

Regards,

Rusty Balls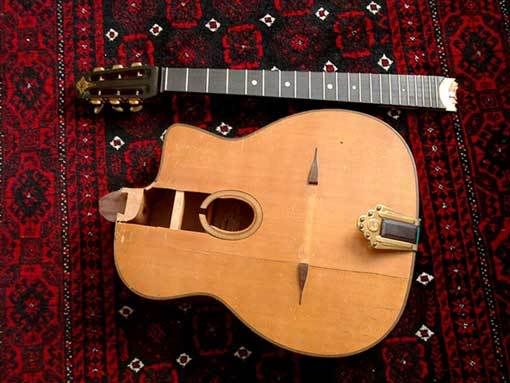 Not too sure what the problem could have been here Rusty. Perhaps the bridge height was incorrect. That can be critical factor in such failures. You would also need to know whether the side panels were laminated, rusticated or castigated. - Cabo is your man when it comes to Brazilians. He's had more of them than you could possibly imagine.
Why not consider switching to a mandolin? These instruments can take the level of damage shown in your photo without any effect at all on the sound they produce.